Ring Exchange
0% (0 votes)
Handfasting
0% (0 votes)
Throwing Rice
0% (0 votes)
Jump the Broom
0% (0 votes)
Henna
0% (0 votes)
claddagh ring
0% (0 votes)
Ring Warming
100% (1 vote)
Total votes: 1
No wikis have been added to this group.
Ring Exchange
0% (0 votes)
Handfasting
0% (0 votes)
Throwing Rice
0% (0 votes)
Jump the Broom
0% (0 votes)
Henna
0% (0 votes)
claddagh ring
0% (0 votes)
Ring Warming
100% (1 vote)
Total votes: 1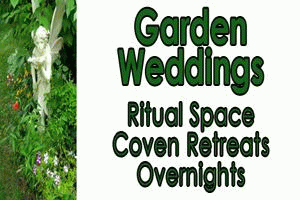 Chicago Pagan Weddings. A Spiritual Wedding Location in Chicago's NWSuburbs. Beautiful garden location and officiation by High Priestess Rev Pamela. A wedding that understands your path and how your family interacts.
Tie The Knot Handfasting Cords Made In Ritual Meditation Specifically for the couple.
Custom Made Handfasting cords bless the couple's union. Made to order handfasting cord has five strands braided 7+ feet long during a formal meditation to bless the couple and the cord. The cord colors are selected by the couple according to their magickal properties and powers of good luck for the couple's future. Prayers are marked with beads and charms denoted on an accompanying copy of the ritual. Wedding ceremony, pagan engagement or wiccan binding ceremony. Order Today!
Address:
Pine Manor Chicago
401 South Pine Street